PRESS RELEASES
Thanks to all of our volunteers, donors and supporters:
Ashley Ernst, Timothy Clayton Braley, Laura Jones, Josh Lamie, Shana Bielemeier, Sir Joshua Hughes, Mada Crembel, Nick Brown, Zach Hussion, and Garret Hussion for all your sweat and hard work.

Jean Cray for plants

Sue Greco for the hose

Besty Hoener from Park Meigs Assoc. for showing us a water source

Mark Salamaca for lumber

Greg from Home Depot for top soil

Sarah Scott for the garden permit

Russ Eckham from Roc City Water for making it rain!!
Click here to see more pictures!
---
IN THE NEWS
---
Rochester Democrat and Chronicle joined Earthworks as they lead one of their most popular community classes, Intro to Wilderness Survival.
October 2015
"One Rochester-based agency offers primitive skills and survival programs that span hours or days to help area residents connect with and explore nature while learning basic survival skills.  The institute launched last fall to teach area residents primitive life skills, social responsibility and how to interact with nature. The lone survival school in the Rochester region is geared toward all ages — preschoolers to senior citizens. The hands-on class is designed to share the basic tenets of survival — how to make shelter and fire, how to find and safely prepare water and how to forage for food. "
Check out the video and whole article, here: DO IT, Learn How to Survive in the Wild
---
Feature Article: Natural Awakenings Magazine
July 2015
Natural Awakenings Rochester features Earthworks Institute in a full page article
"The world is alive around you, but you are just forgetting it exists. Step outside and take a look."
---
Teacher Spotlight: The Rochester Brainery
May 2015
The Rochester Brainery features Earthworks co-founder and Executive Director, Lindsay Cray in their May 2015 Blog …
"It helped me discover my place in the world and who I was…. we are born to discover, that's                                                                     how we develop."                                                                                                                                                                                                    Click here to read more
---
EWI gets news coverage on Channel 8! WROC recently featured a popular new survival course taught in the woods near RIT by Adjunct Instructor and EWI CEO, Lindsay Cray: December 11th, 2014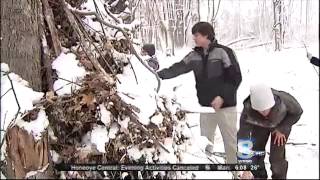 Earthworks On Channel 8 News!
Recent weather conditions - like the snow storm in Buffalo - underscore the importance of wilderness survival skills. This fall and coming spring, RIT is offering students just that - the chance to learn how to survive in the winter. Administered through RIT's Outdoor Education department and taught by Webster resident Lindsay Cray, CEO of Earthworks Institute, the course teaches lessons on hunting, wood carving, wild crafting, wilderness cooking and Leave-No-Trace ethics. Hopefully no one will get stuck in the snow, but RIT students taking Introduction to Wilderness Survival - they will know how to handle themselves.
---
EWI on the Rochester City News' Choice Events Page: July 9th, 2014 (full article below)
City Newspaper
WORKSHOP | Intro to Bow Making
By ALEXANDER JONES

The Earthworks Institute, a Rochester-based non-profit who use hands-on techniques and workshops to reconnect people with the environment, is holding an Intro to Bow Making workshop Saturday, July 12. The day-long, outdoor event gives participants the opportunity to craft their own wooden bow using traditional techniques. The workshop is also a chance for attendees to learn various survival techniques, both for the wilderness and their daily lives, through the use of patience, self-reliance, a positive attitude, and perseverance.
To learn more about what's happening in Rochester, check out City's list of other Choice Events here.